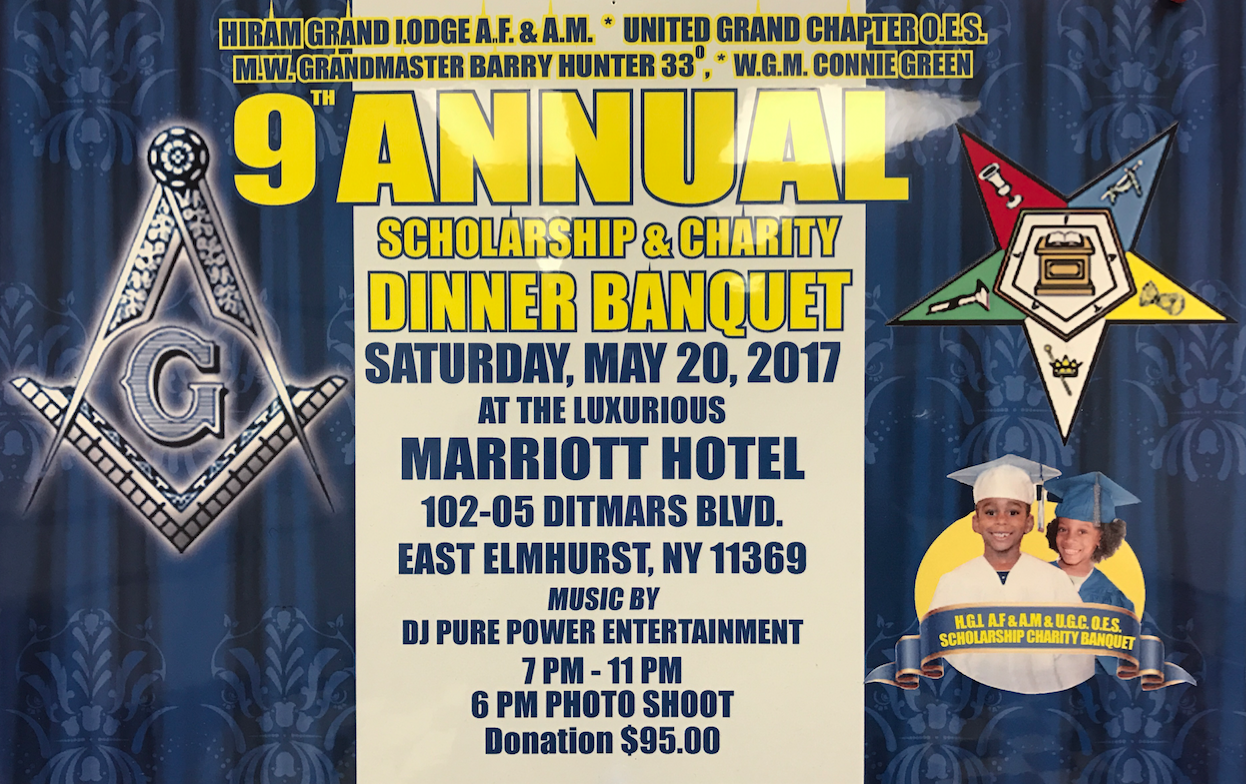 We are pleased to announce that the Marriott Hotel at LaGuardia Airport in Queens, NY will serve as our host for the 9th Annual Scholarship & Charity Banquet Weekend which will be held from Friday, May 19th Thru Sunday, 21st 2017.
All members and guests can begin registering under the group name "HIRAM GRAND LODGE" and receive the special group rate of $139 per night per room (until May 1, 2017), applicable taxes will be added. No exceptions will be given after the 5/1/17 deadline.
Use the reservation code "HIRHIRA" to place your reservations as soon as possible.
Call 1-800-882-1043 or register online at www.laguardiamarriott.com
FREE Shuttle Bus Services will be provided by the Marriott Hotel for all that will be arriving from the LGA Airport.
Those that will be arriving via train please contact:
Grand Senior Warden Tony Dandridge@ 917-968-7477 or Grand Junior Warden Bobby Whitefield @ 917-545-9064 to make arrangements for the Travel Accomodations from PENN Station.
May 18, 2017 - Throw Back Thursday
8:00pm......BID WHIST Challenge (VFW Hall)
8:00pm....Resorts World Casino (Queens, NY)
May 19, 2017 - Fantastic Friday (Optional)
1:00pm.....Sightseeing Tour NYC, NY
M∴W∴ Hiram Grand Lodge (Harlem, NY)
APOLLO Theatre Tour (Harlem, NY)
Sylvia's/Red Rooster Restaurant (Harlem, NY)
Ground Zero (Lower Manhattan)
1:00pm.....City Island Sea Food Lunch (Bronx, NY)
7:00pm.....Welcome Reception @ Marriott Food, Fun, Music, Card Games, Dominos, Chess and more.
May 20, 2017 - Saving the Best for Last, Satisfaction Saturday
9:00am.....Shopping Spree — Midtown Manhattan Garment District/Chinatown
7:00pm.....Scholarship/Charity Dinner (11:00pm) Hospitality Reception
D∴G∴M∴ Eric Keyes (646) 206-8546
G∴S∴W∴ Tony Dandridge, Chairman (917) 979-7477
G∴J∴W∴ Bobby Whitfield, Co-Chairman (917) 565-9064
Sis. Deborah Keyes, Chairperson (646) 408-0068
R∴W∴Dexter Freeman (917) 560-3772
R ∴W∴ Craig Freeman, WOW Chairman (646) 210-6619
Content for Accordion Panel 3